Chinese Modernization and Opportunities for the World
Speech at the Understanding China GBA Dialogue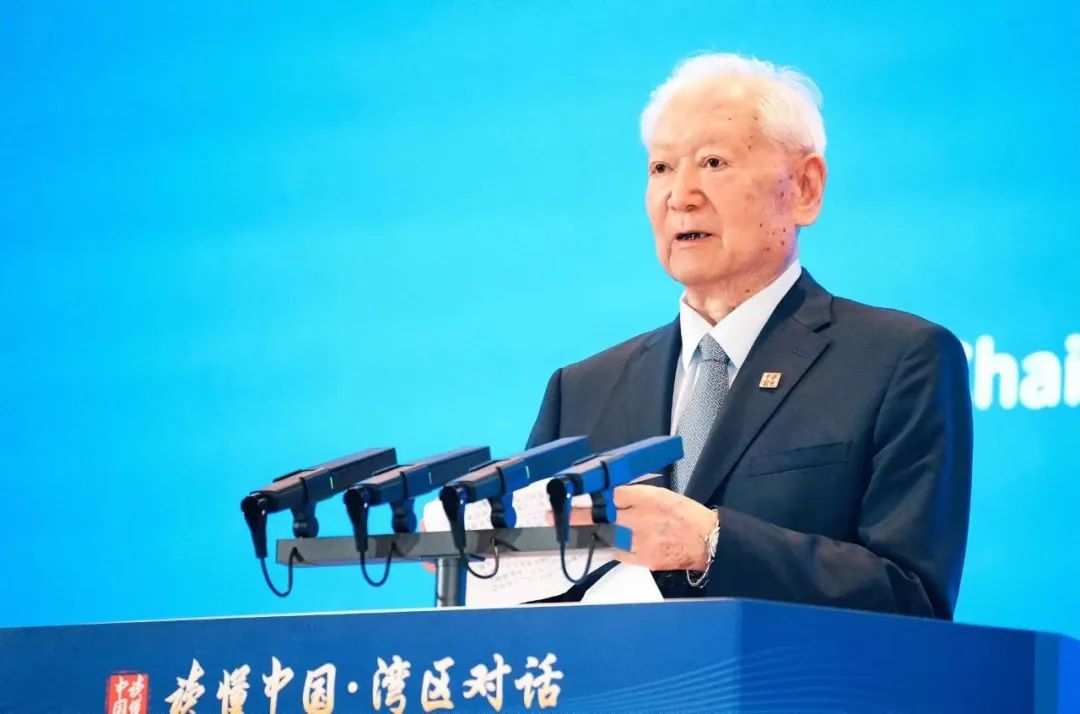 Chinese Modernization and Opportunities for the World
Speech at the Understanding China GBA Dialogue
Zheng Bijian
April 19, 2023
Vice Chairman Gu Shengzu,
Vice Minister Wang Gang,
Governor Wang Weizhong,
President Wang Chao,
Mr. Melnikov, First Deputy Chairman of the State Duma, Russia
Madam Arroyo, Former President of the Philippines
Mr. Raffarin, Former Prime Minister of France
Mr. Goh Chok Tong, Former Prime Minister of Singapore
Mr. Leterme, Former Prime Minister of Belgium
Ladies and Gentlemen, Friends:
First of all, may I extend our warmest welcome to our friends, old and new, home and abroad, to Guangdong Province in the beautiful spring month of April to attend our Conference.
President Xi Jinping's summit with President Macron in Beijing and their informal meeting in Guangzhou just a few days ago and a number of recent high profile Chinese diplomatic activities have demonstrated to the world our new achievements in peaceful development amid global turmoil. After the meeting with the French President, General Secretary Xi Jinping made an inspection tour to places including Zhanjiang, Maoming and Guangzhou, which is of great significance, given the fact that China is now at a most important time in its journey of development. Now look at the theme of our conference --- Chinese modernization and new opportunities for the world. Isn't the General Secretary's Guangdong trip a perfect preface to our conference? Isn't it a harbinger of a new spring?
Therefore, I would like to share with you some of my thoughts on the theme of "Chinese modernization and new opportunities for the world". Specifically I will speak on the three issues of high-quality development, whole-process people's democracy and building a community with a shared future for mankind.
I.The Eight Forces to Achieve High Quality Development
Looking back on the first decade of the new era since the 18th CPC National Congress, we have further deepened reform and opening up and advanced socialist modernization, making new progress in the dual miracles of rapid economic growth and long-term social stability. As I understand it, a key factor in all this is that we unswervingly adhere to the "absolute principle" of development, apply a people-centered new philosophy of development, and insist that high-quality development be the primary task of building a modern socialist country on all fronts.
Specifically, I understand that it is the following "eight forces" that we rely on for our achievements.
The first is the "modern productive force" underpinning the great strides made by the Chinese people in recent years.
The second is the "modern market force" that sustains reform and opening up to the world.
The third is the "force of modern science and technology" that is being applied deeper and wider in the production process and continues to push up productivity.
The fourth is the "modern cultural force" that integrates the ancient and the contemporary, and combines the inheritance of 5,000-year traditions and civilization of China with a keen appreciation of the latest achievements of contemporary human civilization.
The fifth is the "force of modern social governance" that can achieve efficient and democratic governance of a super big society of more than 1.4 billion people.
The sixth is the "the force of modern defense" that is both peace-loving and capable of firmly countering hegemonism and safeguarding the territorial and sovereign integrity of the country.
The seventh force is "resilience" that allows us to effectively respond to various emergencies, predictable and unpredictable, including pandemics and catastrophes.
The eighth force is the "strong leadership" of the Communist Party of China, a century-old party with a membership of more than 96 million, still full of vitality and stands at the forefront of the times.
It is noted that these "eight forces" mean that under the guidance of new development philosophy, China will accelerate its pace to foster a new development pattern where domestic and foreign markets can boost each other, with the domestic market as the mainstay, in order to achieve high-quality development.
A super-large economy like China, whose population exceeds that of all developed countries combined, must maintain a firm grasp on its own development. Accelerating the creation of a new development pattern is a strategic decision to lay a solid foundation for future development.
With these eight forces, and with the new development pattern, we will be able to "sit tight in the fishing boat despite the rising wind and waves", and be on track to achieve the Chinese modernization with high-quality development as our overarching task.
That is my first point.
II.Develop China's Unique Whole-Process People's Democracy
Democracy is a universal aspiration of mankind as well as a relentless pursuit of the Communist Party of China since the day it was founded. China's "whole-process people's democracy" is a major theoretical and practical innovation of the CPC in the course of socialist political advancement in the new era. One of the distinctive characteristics of whole-process people's democracy is that it covers all aspects of the democratic process and all sectors of society, including elections, consultations, decision-making, legislation, management and oversight. It integrates process-oriented democracy with results-oriented democracy, procedural democracy with substantive democracy, direct democracy with indirect democracy, and people's democracy with the will of the state, fully reflecting the advantages of China's socialist democratic political system. This is also the most important guarantee for the Chinese path to modernization.
How is whole-process people's democracy practiced on the ground at the grassroots? At this conference, we have specially designed a parallel session on the morning of April 20, entitled "China's Practice of Whole-Process People's Democracy", where experts and scholars at home and abroad will have a chance to hear village party-secretaries and community workers at the grassroots level to tell their own stories about how they participate in and even help create whole-process people's democracy. I would also like to note that we have compiled all these stories, together with expert comments, into a book with the same title as that of the parallel session.
Whole-process people's democracy in China has developed, in practice, from grassroots democracy to a multi-tier system from the central to local levels that has penetrated into all aspects of social life, a further testimony that whole-process people's democracy will not only take roots in China but will continue to produce more and more fruitful results as well. By the way, anyone who is interested is more than welcome to a field visit after the conference.
That is my second point.
III.The Historic Test of the World's Two Possible Destinies
The report of the 20th Party Congress points out: "Today, our world, our times, and history are changing in ways like never before. The historical trends of peace, development, cooperation, and mutual benefit are unstoppable. The will of the people and the general trends of our day will eventually lead to a bright future for humanity. And yet, the hegemonic, high-handed, and bullying acts of using strength to intimidate the weak, taking from others by force and subterfuge, and playing zero-sum games are exerting grave harm. The deficit in peace, development, security, and governance is growing. All of this is posing unprecedented challenges for human society. The world has once again reached a crossroads in history, and its future course will be decided by all the world's peoples." The two situations mentioned above, in essence, mirror two banners raised respectively by China, or community with a shared future for mankind and by the United States, or the U.S. hegemony in the form of "hostility toward China plus American-style democracy". These are two fundamentally opposite visions for the world going forward. In the midst of these unprecedented changes, the world is being tested on which destiny to choose at this most important historical moment.
So how should we make the choice? China believes that in this new era of unprecedented challenges and enormously high hopes, we are committed to benefitting China and the world by pursuing modernization through peace, development and cooperation. The Chinese people are ready to join hands with people all over the world to create a better future for mankind!
I would like to note that the Global Civilization Initiative, proposed by President Xi Jinping for the first time last month is another important public goods that China offers to the international community in the new era, following the Global Development Initiative and the Global Security Initiative. He stressed that "[A]s China's own future is closely connected with that of other countries and peoples, we will strive to provide new opportunities for world development, add new impetus to humanity's exploration of paths towards modernization and make new contributions to the theory and practice of humanity's modernization as we make new progress in Chinese modernization."
That is my third point.
Ladies and gentlemen, friends,
A review of the tests and struggles that the CPC has gone through in a century shows one theme that runs through the entire history of the Party, which is to "catch up with the times" as we tackle challenges and seize opportunities. Eight years ago, in 2015, when I addressed the second Understanding China conference, my speech was titled "Catching Up with the Times and the Chinese Communist Party".
Eight years later, the CPC has not only caught up with the times, but is creating a new era for China. What kind of new era? It is a new era of advancing Chinese modernization across the whole country with Guangdong Province as the pioneer, pacesetter and experimental zone! As General Secretary Xi said, "Chinese modernization is based on China's realities, in line with its national conditions and with clear goals, plans and strategies. We shall work steadily, step after step, to move forward."
Let me conclude by saying that in the new journey, with single-minded effort by all our people, by pursing high-quality development through creating a new development pattern and advancing whole-process people's democracy through putting the people in the first place, China will achieve the great rejuvenation of the Chinese nation through the Chinese path to modernization and deliver new and greater opportunities to the world. China is happy to see reinvigorated development of the developed countries and is ready to rise peacefully together with a large number of developing countries.
Thank you.